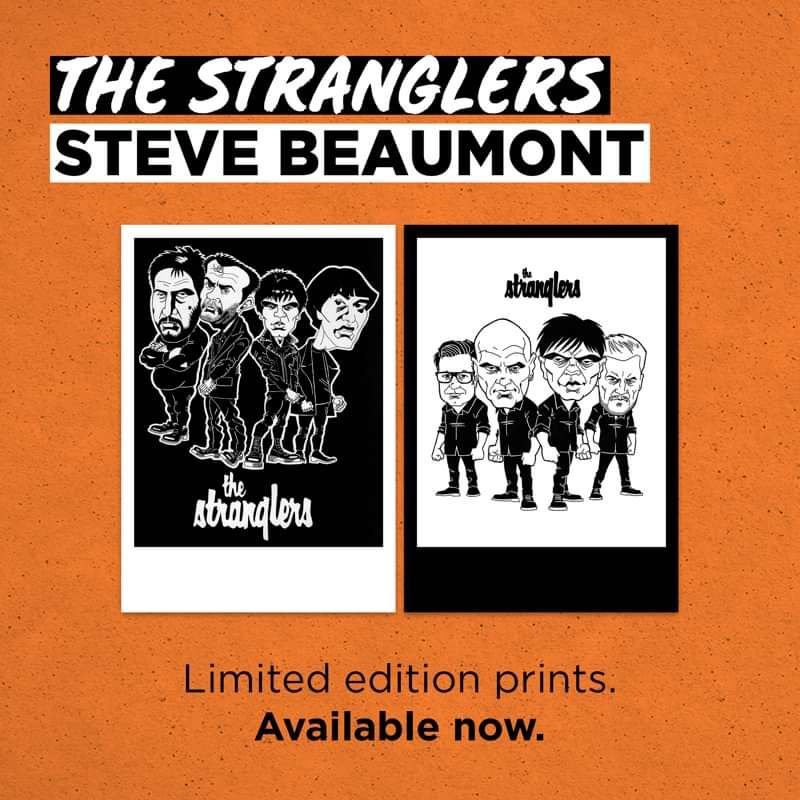 The Stranglers Limited Edition Print Set
Created by Steve Beaumont, and released for the first time as a limited-edition screen-printed set.
Both prints measure A3 and are purchased as a pair in a bespoke gift folder.
Printed by Prints of Thieves.
From Steve Beaumont about the two designs;
''In 1982 Jet Black asked me if I would like to submit some cartoon drawings of The Stranglers. I hadn't had much experience in drawing cartoons at the time, but I gave it a shot. It resulted in the band commissioning a cartoon design for a t-shirt. The cartoon that was used for the t-shirt is now considered, among Stranglers fans, to be iconic.
For 2023 I have created a brand-new cartoon of the current lineup of The Stranglers, Jean-Jacques Burnel, Baz Warne, Jim Macaulay and Toby Hounsham, has been created especially for a limited-edition print, exclusively for Teenage Cancer Trust.''
Our sincere thanks to Steve Beaumont, The Stranglers, James Cropper Paper and Prints of Thieves for your generous donations of time, talent and product which has helped to make this possible.
International customers are responsible for import fees due on delivery.
Steve Beaumont has been designing and drawing t-shirts and posters for the music industry since 1982, for bands such as, The Stranglers, The Damned, The Cramps, The Creatures and Garbage. Via a connection in the music industry, he branched out into concept art and illustration for the video game industry, which led to working in TV and film. Throughout his career, music has been a common thread that ran through most projects.