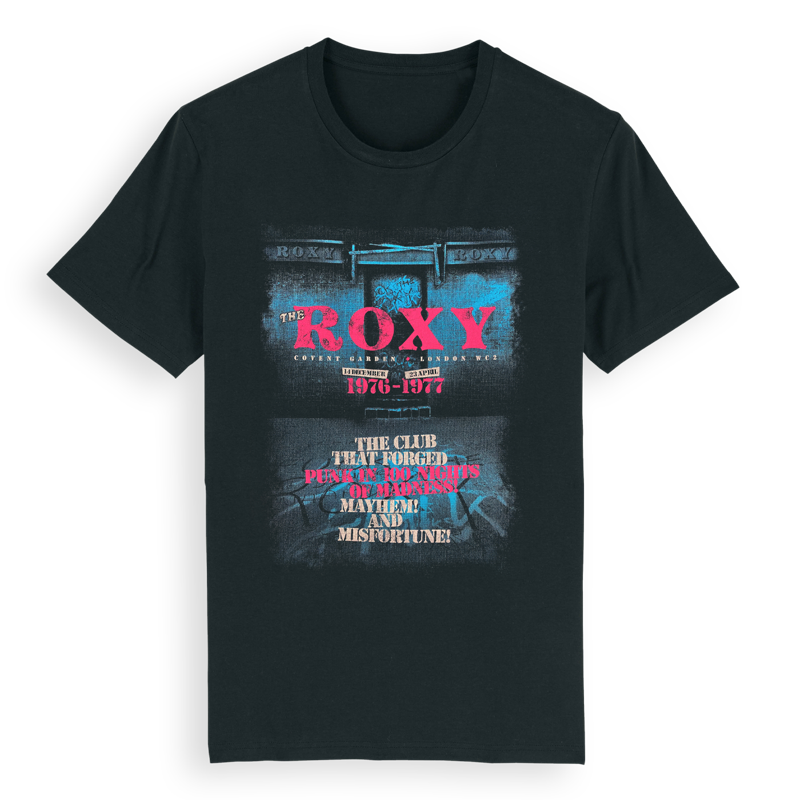 The Roxy T-Shirt
Roxy Club Retrospective Art – Limited edition of only 100, screen printed in 3 colours on front and back onto a premium quality 'Black' Stanley Stellar Creator T-Shirt.
The Roxy Club artwork has been created by designer Simon Collett, co-director of leading UK entertainment creative agency Tour Design in collaboration with Andrew Czezowski and Susan Carrington.
The design pays homage to this truly iconic London music venue and documents some of the seminal bands that performed at The Roxy during those infamous 100 nights including The Adverts, The Boys, Buzzcocks, Chelsea, Cherry Vanilla, The Clash, Cock Sparrer, The Cortinas, The Damned, Don Letts (Club DJ), The Drones, Eater, Generation X, The Heartbreakers, The Jam, The Lurkers, The Models, Johnny Moped, The Only Ones, Penetration, The Police, The Rejects, Sham 69, Siouxsie And The Banshees, Slaughter & The Dogs, The Slits, The Stranglers, Subway Sect, The Vibrators, The Unwanted, Wayne County & The Electric Chairs, Wire, X-Ray Spex.
Thanks to 45 Original for their support of Teenage Cancer Trust. 50% of the profit from these products will be donated to the charity.